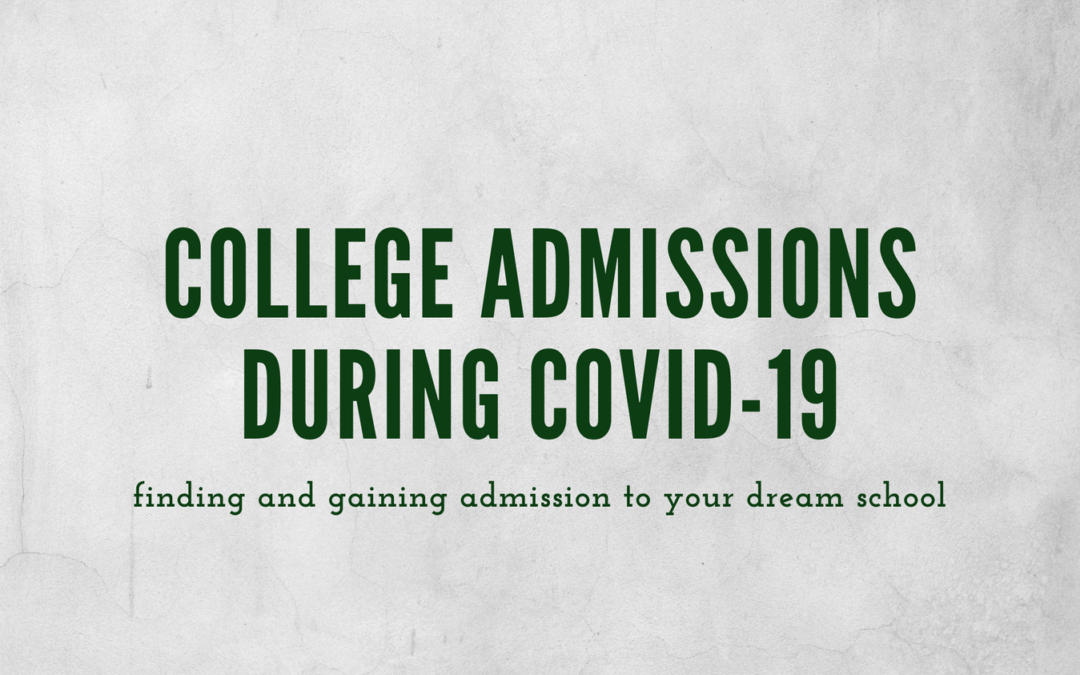 What has changed from the perspective of a college admissions office? 
COVID has raised serious questions about many aspects of higher education. However the challenges facing a college admissions officer have not changed fundamentally. They still have the extremely difficult task of evaluating many hopeful student-prospects for a limited pool of spaces. As such, they want EVERYTHING that makes you jump off a piece of paper and can differentiate you positively. Still one of the best opportunities available for students to positively represent their abilities on a piece of paper is by optimizing their standardized testing results.The switch from testing required to testing optional is not as big of a change as you might think. Admissions processes have always been holistic and will continue to be holistic. And in that holistic process, one of the best opportunities available to a student to improve their chances is still a stellar standardized test score.
What has changed from the perspective of a high-school applicant? 
Many students and parents believe that their colleges going to 'test optional' admissions is a big change. In reality, it is not the change they believe it is, and adjusting their strategy too much could backfire. My strongest, most urgent advice to students: don't get lax about your ACT or SAT scores just because your school has moved to 'test optional' admissions. In fact, I recommend you replace the words 'test optional' in your head with the words 'test recommended.' 
Why?
Because really, every school that has gone to 'test optional' has really gone to 'test recommended.' The ACT / SAT tests are still strongly recommended to be part of your application by admissions officers to gain admission to their schools and are REQUIRED for scholarship determination. Scholarships are arguably the biggest opportunity created by a top score on your ACT or SAT.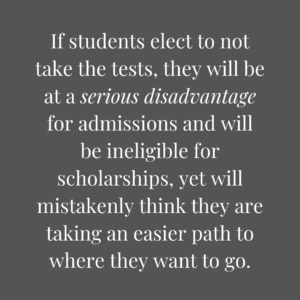 I personally fear that the biggest change out of this policy change by schools will be that the gap will widen further between those 'in the know' and those who lack awareness of the opportunity provided by standardized testing. Those who are aware will continue to leverage its disproportionate returns, while those who never understood will now not even attempt. Now, if students elect to not take the tests, they will be at a serious disadvantage for admissions and will be in
eligible for scholarships, yet will mistakenly think they are taking an easier path to where they want to go.
For almost every single student in almost every single scenario, the very best way to optimize your admissions and scholarship outcomes is through optimizing your ACT or SAT test scores. Relative to the 6,500+ hours spent on your GPA and the 2,500+ hours spent on your extracurriculars, the return on investment (of time alone) of maxing your test score is the very best opportunity you have at your disposal as a high school student.
What types of requirements are colleges more or less focused on during a pandemic? 
In some ways, the bar has been lowered for looking good on a piece of paper for admissions and scholarships. Extracurriculars will be worse for everyone. GPAs will all have asterisks or blanks, as many high schools will have elected to remove or change standard grading procedures. 
A high standardized test score will shine especially bright this year because there is little else left in life that approximates the 'standard' in 2020.
Also, if you have been able to do almost ANYTHING to make good use of your pandemic time, it will stand out more than it usually would. This includes things as simple as taking up a new skill or hobby, volunteering in some way, getting involved in groups, or just gaining clarity in how you want to impact the world and taking actionable steps toward making it a reality, all these will stand out this year. Show that you take initiative in pushing forward even when the world grinds to a halt and you will jump off the paper in a positive way. 
What's the most important thing for students to focus on during their applications this fall?
Since high school students have not been able to amass the normal breadth of extracurriculars, accolades, internships / work opportunities, and academic distinctions in 2020, you shouldn't feel the normal pressure to have produced a lot to put on your resume for college admissions this year. 
Rather, a solid standardized test score and a few clear signs that you have taken ownership of your journey during the uncertainty will go a long way. Paint a picture of yourself as a self-starter even when the world slows to a halt, and you will stand out. Be sure to have evidence to show how you have used the disruption as an opportunity to invest in your future and the future of the world through your efforts. If possible, show how the pandemic has only increased your intensity in interests you were already developing. Develop key anecdotes that show how your interests and desire for learning and growing as a person have only intensified during the pandemic.
What's a good substitute for steps of an in-person college search, like visiting campus and going in for interviews?
Unfortunately, nothing can ever truly beat being on campus to decide if a school is the right place for you. If you are able to do so, try to take steps to view campus, even if you need to do so in a socially isolated fashion.
If you are not able to do this, I recommend starting with a large, diverse set of choices for schools and then use online resources to refine your search. A great starting place is US News & World ranking of colleges or a book like Princeton Review's top colleges in America. Once you have a list of 20-30 that seem like the right fit for you, dig into each one a bit more by visiting the resources on the school's website. If you are able to get it down to a top-10-or-less list, you should apply to all of these top 10 schools to make sure you have the best possible chance of getting into at least one of your top 10 schools. This is especially true if you are applying for competitive schools, competitive scholarships, or honors programs at your schools. 
If you are not able to visit the campuses and need help deciding between the top 2-3 colleges into which you are accepted, try researching student groups and contacting the head of student groups you may be interested in. Most will have a contact person listed who will be THRILLED to hear from a high school student this early in their college journey. Starting early with finding the student groups that are right for you can help you make sure that you pick the right school and have a successful college experience once you enroll in that top choice. Try to include at least one group in your search that is purely just for fun or interest. The true value of a college education is in the diversity of experiences and perspectives you can obtain quickly – don't have too narrow of a focus right at the beginning.
What can parents do to help students during this unprecedented change?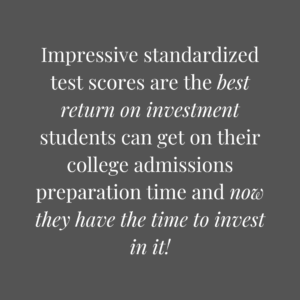 As much as you are able to, provide structure! You may be disappointed that your seventeen-year-old does not seem to have the passion you want to see right now and even more disappointed that he or she has spent a lot of their pandemic time playing video games or watching Netflix. However, my fifteen years of working with high school students has left me overwhelmingly impressed with their resilience and their ability to rise up to meet the expectations that are set for them. If little is expected, they will do very little, however. 
They have an incredible opportunity to define their future through their standardized tests. Normally the reason students don't prepare more for their standardized tests is because they are overwhelmed with extracurriculars and other time commitments. Well, this is their year! It's the best return on investment they can get on their college admissions preparation time and now they have the time to invest in it! 
And then, I would encourage them to participate in organized sports and extracurriculars as much as possible. The structure and growth that these experiences outside of the classroom provide are invaluable. Finally, I would recommend that they spend a small portion of their new extra time (if they have it) volunteering in some capacity, especially in a capacity that shows that they are going above and beyond, not sitting idly by. The world of COVID provides incredible challenges but also incredible opportunities for compassion. If your child has shown in tangible ways that they are committed to making the most of a bad situation, there are few admissions officers that will not want them as part of their student body!