Description
Olympia Prep will be presenting a condensed ACT Acade'mini' specifically for MPE students.  This program will provide the most up-to-date strategies and skills for the ACT test as well as functional-content-area instruction on some of the most tested areas of the ACT test.  It comes with a software-generated report and customized study plan to move forward with your score improvement after the program.  If you're looking for the fastest, most effective way to prepare for the December 12th ACT and beyond, this program is for you!
If you're ready to jump into our full score-improvement-guaranteed programs, please consider claiming one of our remaining spots in an upcoming Academy or Tutoring Package.  This Academini is free to all who have enrolled in one of the linked Academies of Tutoring Packages.
Acade'mini' Program Details:
The academini will be hosted live online. You will receive the invite after purchasing, and again the night before the event.
Dates and times (please plan to attend both sessions):
Session 1: Monday, December 7th: 9AM-12PM
Session 2: Tuesday, December 8th: 9AM-12PM

Program Content Highlights:
6 hours of targeted ACT test preparation
Personalized Success Plan meeting free with our team after
Proven test strategies and content for test day
Specific content for English, Math, Reading, and Science tests
Practice sets done in class to apply taught concepts
A complete ACT test assessment done during the program – a software-generated report will be created following the classroom dates to give your student a specific study plan to continue on their own or with a longer Olympia Prep program in the future.
Our team will create this custom plan for you and reach out after the event to deliver it to you free of charge!
Event Coordinator:
Abigail (Abbey) Muma – Plattsburg High School 2011 – Purdue University 2016 – ACT: 28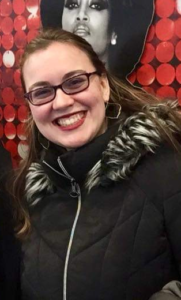 I was always a bit of a nerd in high school. Any academic type club or group, I was in it and I was likely leadership within the group. I had some big dreams. I wanted togo to Purdue University and study Aeronautical and Astronautical Engineering with the best of them. I wanted to work for Boeing after graduation and design the next commercial aircraft. I had some pretty crazy dreams for a small town girl. So when it came time to take the ACT I was genuinely excited. This was my chance to show Purdue University that I had what it takes. Of course this also meant that I was super nervous as well. So test day comes and I power through it. I would like to say Ifelt really good about it. The truth is that I didn't feel remotely good about it. Cue the mass of anxiety that would become my life until I got the results. And when I finally got them I was honestly a bit disappointed. I knew I needed at least a 28 to qualify for Academic scholarships at Purdue and I fell short of it with a 26. And 28 was my minimum. I can't even begin to describe how lousy I felt. So I did like anyone does in these situation; I buckled down and studied. I target my lowest score (Reading) for some extra serious work and took the ACT again. Believe it or not I got my 28 but this is where I sold myself short. I stopped. I didn't aim any higher. Honestly, I think I was just scared. It would be a lot of work but what if I put in all the time and let myself down again. It is honestly one of my biggest regrets. So when I got this opportunity to make sure another kid didn't make my mistake, I jumped. And it's been full power ahead ever since.
Additional Olympia Prep instructors will be available to assist with personalized instruction.
.
.